WHAT BOOK AM I ???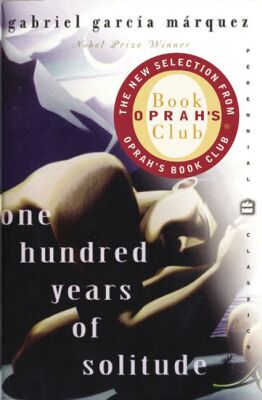 You're One Hundred Years of Solitude!

by Gabriel Garcia Marquez

Lonely and struggling, you've been around for a very long time.
Conflict has filled most of your life and torn apart nearly everyone you know. Yet there
is something majestic and even epic about your presence in the world. You love life all
the more for having seen its decimation. After all, it takes a village.


Take the Book Quiz
at the Blue Pyramid.
I felt bad about not having a blog entry for the past...week?...so in reading one of the more of less 130-something blogs I read daily, I found this test and took it. So now I have a blog entry. It's okay, I guess. The blogger whose site I got the link from had a really unflattering one, despite the fact that she is a very good person, so I am grateful I got this one after all.
Gabriel Garcia Marquez's work amazes me! So in that, I am extremely flattered. But, dang! - I didn't know his "One Hundred Years of Solitude" had become one of Oprah's selections. I love his story, "Eyes of the Blue Dog". Google that and read it.
I also did a 'meme'. Where the heck did that term come from and what does it mean?! Anyway, I'll post the results of that one later today to spread out the excitement a little. Hehehe...
Meanwhile, back to what I SHOULD be doing instead of surfing the net.